WELCOME

The National Gold & Silver Refinery is the Ohio Valley's largest precious metals dealer. We have served OVER 150,000 customers in the Valley just like you! Our experience and knowledge has allowed us to pay the highest prices in the tri-state, guaranteed. That's right, if you bring in any legitimate written offer, we guarantee to beat our competitors price by 10% (scrap gold only). 

Here at The National Gold & Silver Refinery, you can expect fast, easy and friendly service! With three locations in the Ohio Valley, selling your valuables has never been more convenient. 

Certified Gemologist on Staff

Vintage Autograph Experts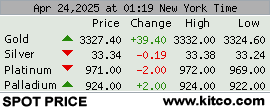 Copyright © 2012 The National Gold & Silver Refinery, LLC. All rights reserved.


ATTENTION: Back by popular demand, we will be returning to the HAMPTON INN, WHEELING July 18th!  We are here to serve you Monday through Saturday!

TWO CONVENIENT LOCATIONS

Holiday Inn Weirton   .   Hampton Inn Wheeling

Monday - Friday: 10am - 6pm

Saturday: 10am - 4pm 

For immediate service, call  740.346.8133